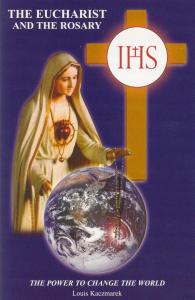 The Eucharist & The Rosary, The Power to Change the World
B-ER (ENGLISH) From The Eucharist and the Rosary, The Power to Change the World,
by Louis Kaczmarek:

"Pope Paul VI said that if evils increase, the devotion of the people of God should also increase. What more efficacious devotions can the faithful have than those directed to the Blessed Sacrament and the Mother of Our Savior . . . . This book is for everyone, regardless of age, from the scholar to the checkout attendant . . . . In his gleanings from vast sources of information, the author has encapsulated his findings into a precious volume: the sayings of the saints and scholars of all ages, for the purpose of helping the believer to cultivate the life of the spirit . . . . May this precious little gem, THE EUCHARIST AND THE ROSARY, help us behold forever the eternal Face of God!" (Fr. Anthony Noviello).