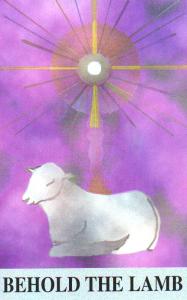 Behold The Lamb
Great for young adults and everyone! Awesome reflections on the love of Jesus in the Holy Eucharist, includes inspiring scripture passages and beautiful quotes. "2,000 years ago the cry was heard from the desert as John the Baptist pointed to Our Lord as he walked by, and discipleship began. Today again, with this book, the cry of the Baptist is heard. Like John the Baptist, this book will be a great herald of the True Presence of Christ among us! These are wonderful meditations on His love, His call, and His longing for our love. I highly recommend Mary Beth's book as a source of meditation on the awesome, powerful and mysterious Presence of Jesus among us." (Fr. David Engo) View the book trailer at: https://spark.adobe.com/video/KfT7DDTWUiYQN

Sale: Now only $3.99! (Regularly $9.00)

Buy them in bulk for your parish or community to celebrate the Eucharistic Revival!