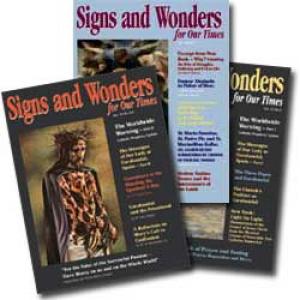 1-year subscription to Signs and Wonders
Order a 1-year subscription to Signs and Wonders Magazine, published by Signs of the Times Apostolate.

Signs of the Times is a group of lay and religous Catholics whose primary objective is to live and spread Our Lady's messages of prayer, fasting, faith, conversion and peace. We distribute literature, including books, audio, and video materials on the Catholic faith.

We respectfully recognize and accept that the final authority regarding apparitions and locutions presently reported around the world rests with the Holy See of Rome, to whose judgement we humbly submit.

We shall abide by what Pope Urban VIII (1623-44) stated: "In cases which concern private revelations, it is better to believe, for if you believe and it was proven true, you will be happy that you have believed because our Holy Mother Church asked it. If you believe and it should be proven false, you will receive all blessings as if proven true, because you believed it to be true. 'Blessed are they who believed and yet have not seen' (John 20:29)."

Author: Signs of the Times Apostolate
Catalog Page: 31